Wireless local-area networks which are also referred to as WLANs or Wi-Fi are prevalent these days. They are so popular that they can be found installed in offices, colleges, hotels, cafes, and even homes. There are many Wi-Fi product vendors and service providers, providing different products with different services and features. The main reason behind them being so popular is the convenience, mobility and ease of implementation they provide compared to the wired network. The end user can easily access the network without the hassle of managing the wires.
Wireless networks are basically based on the Institute of Electrical and Electronics Engineers (IEEE) 802.11 set of standards for WLANs. Following is the list of the IEEE 802.11 network protocol standards.
Protocols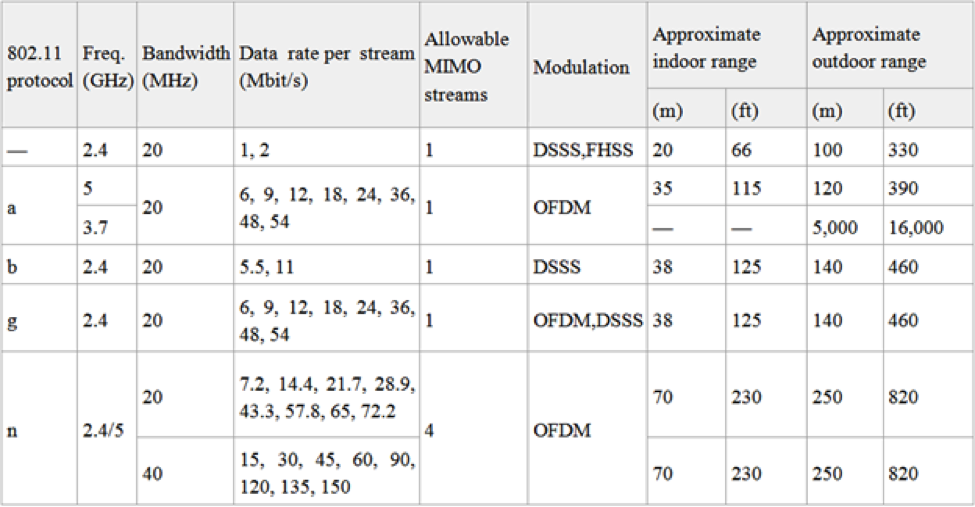 802.11 network standards are shown in Figure 1.
Figure 1. 802.11 Network Standards (source: http://www.wikipedia.org)
Some years back, wireless networks were only a niche technology used for very specific applications. But nowadays they are everywhere and every now and then we find a new Wi-Fi access point through our smart phones, tablets or laptops – most of which are not even secure.
Most of us have used these access points at some point in time to access the Internet without realizing how much (In)security they provide.
An insecure Wi-Fi network poses a threat not only to the owner but to every user that accesses it. The first line of defense for a Wi-Fi network is encryption, which encrypts the data transmitted between the Wi-Fi enabled device (smart phone, tablet, laptop etc.) and the wireless router. The Wireless Protected Access (WPA) protocol and more recent WPA2 have replaced the older and less-secure practice of Wireless Encryption Protocol (WEP). It is better to go with WPA2 as WEP is relatively easy to crack. Wi-Fi Protected Access (WPA) and Wi-Fi Protected Access 2 (WPA2) are two security protocols and security certification programs developed by the Wi-Fi Alliance to secure wireless computer networks by providing encryption mechanisms. But common users know little about wireless security and are scared by the available options to set up these methods.
Because of this unawareness and implementation issues with these protocols, in 2007 Wi-Fi Alliance came up with Wi-Fi Protected Setup (WPS) which allowed home users to easily add new devices to an already existing Wi-Fi network without entering long passphrases.